Lenny's Japan Visit
My friend Lenny is visiting Japan from the US this week. On Sunday, Monday, and Tuesday, I got to hang out with and show him around Tokyo. I am nowhere near a great tour guide and got us lost a few times (actually, I'm never lost; I just like to take the long route), but overall it was a good experience for me and hopefully for my friends.
Sundy:
I met Lenny and his friend Merrily in Nippori where they were staying, and after a traditional onigiri (Japanese rice balls [triangles]) breakfast, headed off to the train station. We went to Ueno to activate their JR passes but found out that we had to wait until 10:30, so we went to Ueno park for a while. While there we were lucky enough to get a free tea ceremony. Even better was the fact that it was also Free Day at Ueno Zoo. Yay for free things. We checked out the zoo for a while and saw all the cool animals. The Ueno zoo is much different than most other zoos as the animals have a much smaller living space and you can almost touch them in some cases. After the zoo we went to Tokyo station and looked at the Imperial Palace grounds. Lenny and I decided to have a race across the park; I won

It being Sunday, we then went to Harajuku to see the… um…gothic people I guess. Although, some of the costumes the people wear are far from any categorization. This Sunday there was also the St. Patrick's Day parade going on. We enjoyed watching the parade, and enjoyed jumping the barrier and joining the parade even more. Then a ramen lunch followed by a walk to Meji Jingu Shrine. After some deliberation on what to do next we went to the Tokyo Tower to get a night view of the city. The tower was crowded with people and there was even a line to get down from the top. We then took a quick look at Roppongi.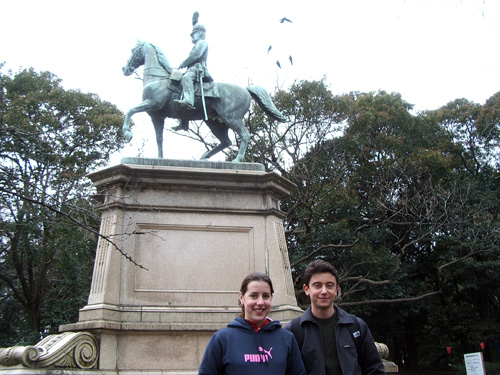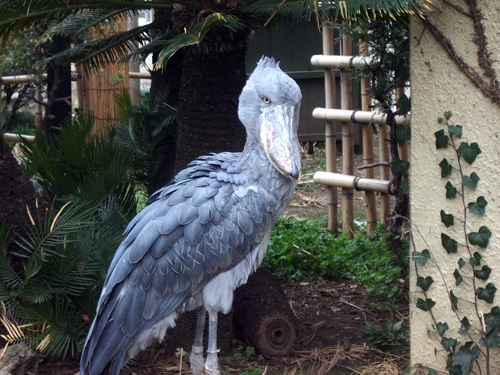 Make sure to see the pictures for the other days too: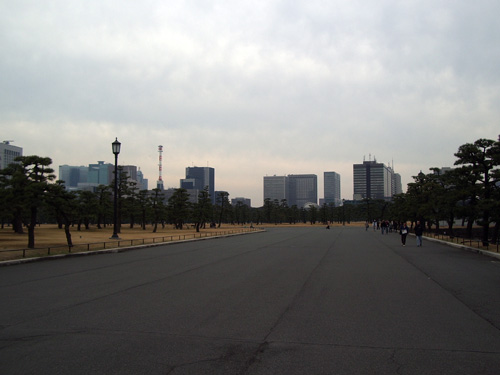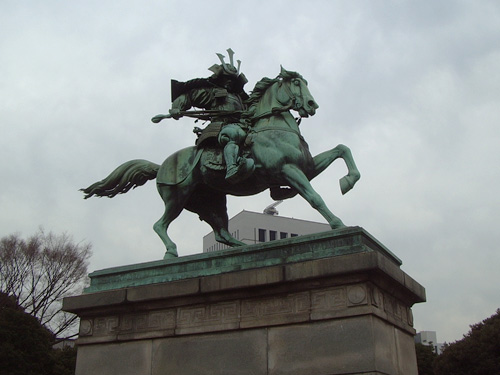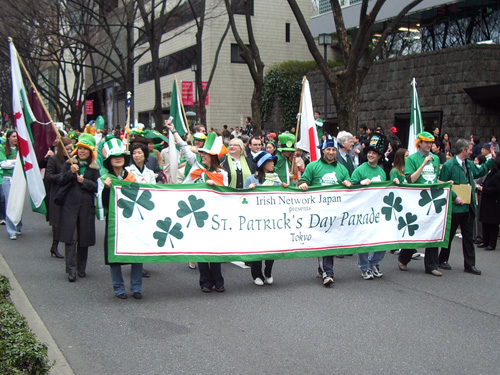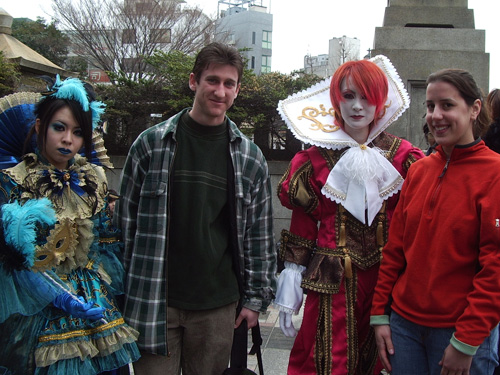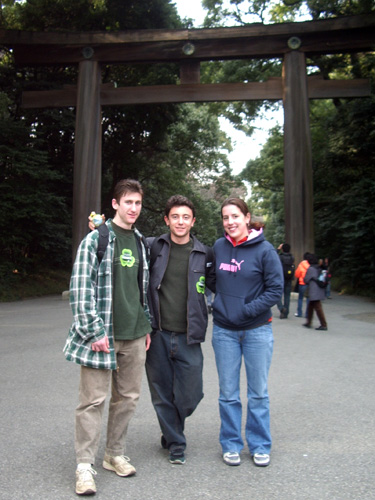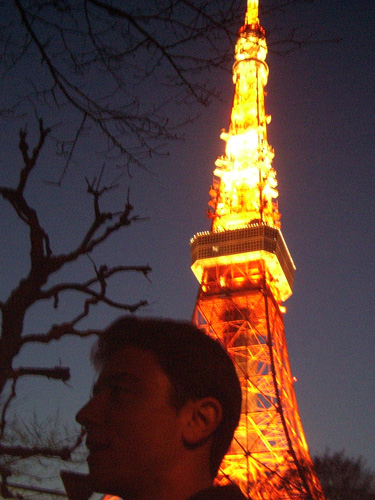 Monday:
Got up early again and met in Shinjuku. We then went to the top of the Shinjuku Government Building to get a good day view of the city. We could even see Mt. Fuji a little. After a little searching we ate 'Kaitenzushi' for lunch. Those are the famous sushi shops in Japan where the sushi goes around in a circle and you pick the plate you want. Our stomachs full, we decided to burn some calories at a game center to be followed by a trip to Akihabara. We explored Akihabara and I took them to Mr Donuts to get some good donuts. Mr Donuts is better than any donut shop in the US but I am not sure why. Asakusa was our next stop. We walked through Asakusa and did a little shopping on the way. At Sensoji Temple we did the typical throw the money, wish, and clap. We had done a lot of walking so far so afterwards we decided to relax on the waterbus to Odaiba. Once in Odaiba we did a little more shopping… for cars, at the Toyota showroom. Then yet another game center. We took the monorail back and had dinner at some place whose name I forgot. The place didn't have an English menu but it was late and we were hungry, so I picked many things off the menu at random. It was a nice dinner, despite having no clue what we were eating.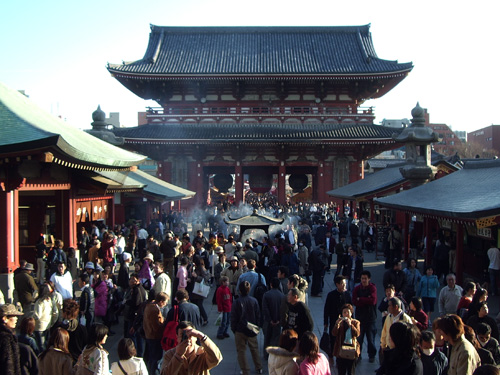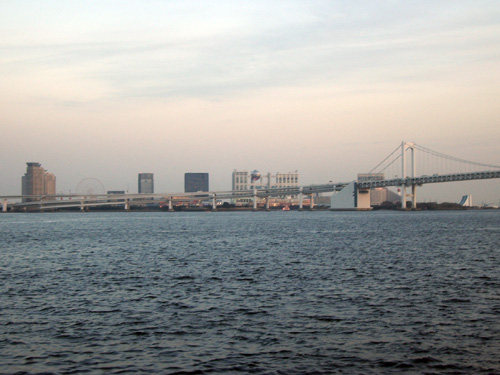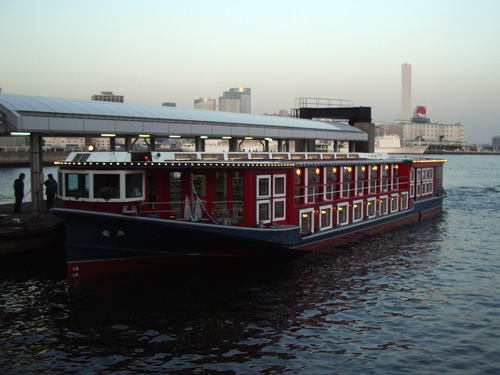 Tuesday:
I got up early yet again to go to Tsukiji fish market. I was amazed with all the fish and seafood at the market, as well as all the crazy people driving the little cart things around. We took many pictures of all the interesting things there. Then the typical Tsukiji breakfast: sushi. We had the best and freshest sushi money can buy including the famous Otoro. After breakfast we took a walk to the Sony building and looked at all the cool Sony products. We even played the PSP a little. Afterwards, I had to go to work

But before I left, I helped Lenny get shinkansen tickets to Yokohama and Nagoya. He will be spending Wednesday in Yokohama and the rest of his trip in Nagoya. Hopefully the weather will cooperate with his plans. In a way I am envious, I have never been to Nagoya and it has been a while since I've explored Kyoto. Maybe I will take a trip down there again soon.