Hakone - The real post
Forward: It seems that I have written a lot again, and if you have time please view the photo gallery of Hakone as well.
As you can tell from a few posts ago, I went to Hakone. Last Monday I got up really early in the morning and, realizing that I also had Tuesday off, decided to go to Hakone. I went to Shinjuku and bought the Hakone Free Pass which gives me unlimited transportation within Hakone for a few days. I also got a ticked on the 'shinkansen'(bullet train) that gets me there much quicker. The shinkansen was interesting, as the conductor sat up above the passengers which allowed a free view out of the front of the train. When I got to Hakone I took another short train, which had a lot of switchbacks, up a mountain. The fall colors were actually quite beautiful as well, yet the sky was fairly cloudy and Mt. Fuji was only seen through a hole in the clouds. Once I got to the top, I took a cable car followed by a ropeway to 'Owakudani'. Owakudani is a volcanic activity area with lots of sulfur pools and steam. I took some time to explore the area and also did not pass up the opportunity to eat the famous Hakone Black Eggs. They are eggs that are hard boiled in the sulfur water so they are completely black on the outside. This was followed by another ropeway down the mountain to 'Lake Ashi'. I then boarded the scenic boat bound for the other side of the lake. I relaxed and enjoyed the view I went across the lake. By the time I reached the town on the other side it was getting dark. As can be inferred, I made no previous plans beforehand and was making my trip up as I went. I walked around town for a while before finding an information office. The guy, who spoke no English, was happy to help me. Hakone is famous for 'Onsen' which are traditional Japanese hot springs and I did not want to leave without going to one. So the man gave me a few choices of places to stay that had an onsen. After contemplating for a while I decided to stay at a Japanese 'Ryokan' or traditional Japanese inn, which also happened to be the most expensive place there was. Yet, I will attest right now that it was money very well spent. As soon as I arrived an old Japanese lady dressed in a traditional kimono was there to greet me and for my entire stay there treated me almost like royalty. My room was amazing with an even better view of the lake. Hot tea and a sweat were there ready for me as I entered the room as well. One of the reasons I decided to go to the Ryokan was because a traditional Japanese dinner and breakfast were provided. Dinner was served to me in my room and everything was completely delicious (see picture). After dinner I went to the bathroom, yet when I returned not 2 minutes later dinner was magically and completely cleaned up and the futon was perfectly set up. After a wondrous meal I decided to go to the onsen where I spent the next few hours just relaxing.
The next day I woke up to the most beautiful sunrise on the lake. I got up early to enjoy the day, yet again as soon as I returned from the bathroom breakfast was magically ready and the futon gone. I then went walking in the morning along the famous 'Ancient Cedar Avenue'. Yet as I was enjoying my relaxing morning stroll I was suddenly attacked by a mob of elementary school students who wanted to practice their English. I could not refuse as they asked me questions followed my signature and pictures. They then performed 'Taiko' for me and held up homemade pictures about Hakone (see video in a future post). The weather was perfect in every sense. I hiked to the Hakone gardens and observatory point and had the most beautiful view of Mt. Fuji… ever. Well, besides the time I actually climbed it. They even had one of those binocular machines free for use, and I picked out the trail I used when I climbed it last year. Upon marveling at the mountain for at least 30 minutes I made my way to the start of a hiking trail I picked out on a map. I love hiking and being by myself allowed me to go at any pace I wanted, which is fast. The trail I chose was up a mountain then back down it followed by an ancient stone pathway. The way up the mountain was incredibly steep as it seemed I had to jump to get up each stair. Yet I made my way up fairly fast passing a few groups on the way, including a pair of old ladies who commended me on my speed. I was also amazed that the old ladies were able to make it up the path which was incredibly difficult even for me. It gave me another reason why they have such long life spans here. I made it to the top way before the suggested amount of time it stated on the map. I relaxed for a while, ate an 'onigiri'(rice ball), and started down the mountain. The path down was much longer and thus much less steep, so I decided to make my own new sport. It was called run down the mountain… where every step could be your last. I passed countless groups on my way down, and as I did I could hear their comments as they were both shocked and amazed at what this weird 'gaijin'(foreigner) was doing. When I got down I relaxed and took my time along the ancient stone paved road back to town. One in town, I made my way to Hakone temple and took a stroll along the lake edge. I decided to leave a little early as I read about a 'kamaboko'(fish cake) museum in Odawa, which is the major city before Hakone, where I could actually make my own kamaboko. I got on the express bus and left Hakone and Mt. Fuji behind. Unfortunately, it was a holiday and the road down was packed so I arrived at the museum too late to actually make kamaboko. I did enjoy the museum, and saw how kamaboko is made. I got back on the train to Shinjuku followed by a train home… of course I took some time in Shinjuku to play Tekken 5 again.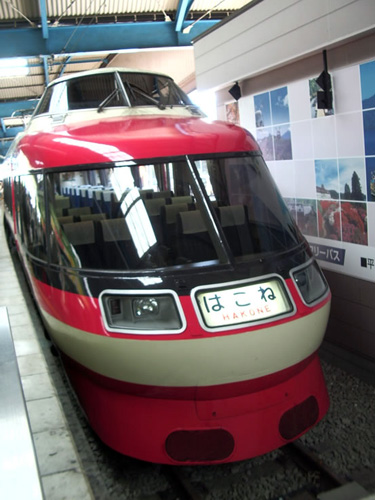 The train with the great view to Hakone.